Our Stradivarius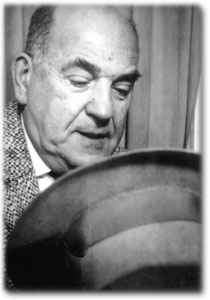 Israel Kolb (the author's father)
during the 1960's.
Lately, with all the terrible things going on in the world, I find that reading the newspaper - once a favorite daily routine - is not a pleasant activity anymore. However, on April 13, 2002, an interesting headline in the New York Times caught my eye: "An Upper West Side Mystery - The Vanished Stradivarius." A rare Stradivarius violin worth $1.6 million was stolen from the workshop of a violinmaker near Lincoln Center. An old memory, buried for over 50 years, stirs within me: my family's Stradivarius.
It was Poland, 1945, shortly after the end of World War II. Now that so much has been said and written about the Holocaust and its aftermath, I will spare you the details of our ordeal. Briefly, our Jewish family miraculously survived the war, our father returned from the concentration camps, my mother, sister and I came out of hiding, and we resumed a normal life. Normal? Our parents desperately tried to make it normal, and my sister and I cooperated.
We were forced to leave our hometown, as that part of Poland was now in Russia. We traveled by cattlecars to a newly-assigned part of Europe that was previously Germany, and was now Poland. After several weeks of traveling, we were assigned to a town called Legnica. Father, once a successful fur trader who had traveled to England, Germany, Sweden and Russia before the War to attend fur auctions, now opened a small store below our apartment. He traded in everything possible, buying and selling in order to feed our family. The Russian army occupied the town, and their soldiers were robbing and stealing - acquiring goods in any possible way. Some people were selling off their possessions in order to buy food, and others were buying.

From Left: Israel Kolb and his
daughter Irene Kolb (the author),
standing in Israel Kolb's fur business
in Frankfurt, Germany in the 1950's.
One day a Russian soldier appeared in Father's store, probably in need of some money to buy vodka. He offered my father an old violin. Father, who played the violin, showed some interest. He inspected the instrument and discovered, inside, some letters. Taking a closer look, father saw the name "Stradivarius." Father knew the significance of the name, and bought the violin immediately. He closed the store in the middle of the day and came up to the apartment. He pulled down the shades in our apartment, gathered the family around the table and made an announcement: "Today we became very, very rich. We have a violin worth hundreds of thousands of dollars which will enable us to have a secure future. We can go abroad, buy a house, start a business, and pay tuition in the best schools." After that, we were not allowed to talk about the violin. We were very happy with our good fortune - we lived in a state of euphoria.
A few days later, Father wanted more reassurance. There was no way to verify the authenticity of the violin. My parents devised a plan. There was a Jewish piano teacher who also survived the war. He lived with the family of a violin teacher. My parents invited both men over for Sunday dinner. When the meal was over, Father pulled down the shades, locked the doors, and swore them both to secrecy. He showed them the violin. Their verdict: it was a cheap imitation made for beginning students, with the extravagant name "Stradivarius" printed on it for show. What a disappointment.
Our family resumed its modest existence. Still, we managed to go abroad, afford tuition to good schools, and achieve our dreams, even without the violin. But our big dream - of the Stradivarius and its great fortunes - proved to be a dream only. Or was it?
Today I wonder: maybe it was the real thing. We now know that many objects of art were looted during World War II. Maybe Father's violin, whose eventual destination I cannot recall today was one such object. After all, how much could two teachers from a small town in Poland know about a Stradivarius violin?
April 14, 2002