Dreams Of A Childhood Home
We all have dreams. It has long been a dream of mine to visit the house of my early childhood. The last time I slept in that house was 1939. It was the beginning of World War II. The Russian army occupied our town in Poland, expelling us from our house and from our community because of my parents' affluence. When the Nazis later occupied our town, they, too, moved into our large and comfortable house. At the end of the war, we left Europe, never to return to that house. Now, after many years and moves to many countries, I have finally established a permanent residence and roots in the United States. Yet, over the years, I have continued to dream of my pre-war home, and to envy those people who spend their entire lives in one place.
Since our retirement, my husband and I travel to Europe often. When planning each trip, I consider visiting my pre-war, childhood home. This idea lingers and grows and, I am embarrassed to admit, has become a kind of obsession for me. A few years ago, I made an unplanned stop in Poland while on vacation. Once there, I contacted some people from my hometown, hoping to arrange a visit. They advised me that a trip to my hometown -- then part of the Soviet Union -- would be dangerous. Even so, I stood for hours in the office of the Russian Consulate, hoping to obtain a visa. When I was not issued one, I left, greatly disappointed.
Some time later, I received through some newly-made acquaintance a photograph of my childhood house. I studied the image before me. In my memory, the house is a modern, beautiful, custom-built one-family home surrounded by a lovely garden professionally landscaped and watered daily by my mother. This photograph, taken recently, depicted a dilapidated building fronted by seven or eight mailboxes and, therefore, probably inhabited by as many families. The garden was no longer there. Yet, even the grim revelation that my childhood home does not exist in reality as it does in my memory has not deterred my hopes and nostalgia entirely. Are my stubborn dreams of returning to that home another manifestation of my unusual wartime experiences? Has my nostalgia for that pre-war home resulted from the brevity of my happy childhood, and from my numerous displacements during and after the war? I believed so until recently, when a strange incident led me to conclude that many of us secretly yearn to revisit our childhood homes.
On a hot afternoon in August, I took my aging dog for a walk on our quiet street in Teaneck, New Jersey. Upon our return, I spotted a large car parked in front of my house. A handsome, silver-haired gentleman sat in the driver's seat, pointing at the house and talking to the passengers of his car. I was certain they were looking for someone. As I approached the front walk, the gentleman man rolled down his window and asked if I knew who lived in that house. He then explained that he lived in that house with his former wife and their four children some twenty-eight years ago. When I identified myself as the current owner, the gentleman and his passengers spilled out of the car. He introduced an elderly, nondescript woman as his current wife, and a young, attractive woman and her three children as his daughter and her children.
The daughter, a woman in her late thirties, spoke English with a lovely French accent, while her three children spoke no English at all. She told me that she had lived in our house for one year, as a child, that she missed it, that she had often told her children about the house. Then, in a small, plaintive voice, she asked: "Can we come in?" How could I refuse? I invited the party in, introduced them to my bewildered husband, and gave them a quick tour. I saw that the young woman was very emotional and had tears in her eyes. She spoke to her children in French, explaining to them the old sleeping arrangements and recounting some good memories and anecdotes from her early childhood. She also told me that she left the house, and the United States, at the age of 10, and had not returned to the States since then. She thanked me warmly for inviting her in, confiding that she had always dreamed of revisiting her childhood home but had never really believed it possible. Although our childhood experiences differed greatly, I identified with her and confessed that I, too, often dream of returning to my childhood home.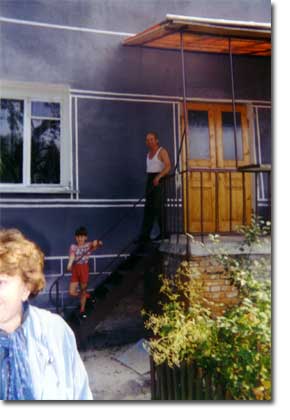 The house in Drohobycz.
This entrance, in the rear, is new.
When yhe Frischs lived there,
the house had only one entrance.
After the group departed, I sat down and wondered at our shared feelings and longings for our childhood homes. I also sorted through my few memories of the previous owners' one year in my house. We purchased this small, comfortable house in Teaneck from them some twenty-eight years ago. We could afford this house largely because the sellers -- newly divorced - needed to sell their home quickly. Our new neighbors soon provided details about the previous owners: The wife was a college professor from Paris, and the husband a former American G.I. They had met and married while he was stationed in Paris during World War II. They remained in Europe for several years, had four children together, and later came to the States and purchased this home in Teaneck. The beautiful, sophisticated French wife never adapted to the sleepy, suburban community. Unhappy with her American home and her marriage, she left her husband and returned to Paris with their four children, while her husband remained in United States. Understandably, he was eager to dispose of the house as soon as possible, and accepted our low bid.
Our neighbors also informed us that the unfortunate couple lived in the house for only one year, and that during that time the unhappy wife showed no interest in the house, nor in the neighborhood. The house certainly looked neglected, its rooms dirty and undecorated. This, too, probably contributed to the sellers' acceptance of our low bid.
Surely, the four children's brief year in the house must have been a strained, unhappy time, culminating in the divorce and their permanent separation from her father. Nonetheless the daughter has continued to cherish her memories from that brief period, and has yearned to return to this childhood home. Perhaps it is the fate of all people who are prematurely evicted from a childhood home, under circumstances beyond their control, to yearn for that home and for all it represents.
I was glad to have helped the daughter attain her dream, but sad at the thought that I would never achieve my own dream. Recent political changes in Eastern Europe bar my return to my childhood home which, according to the current photograph in my possession, no longer exists in the condition etched in my memory. This dream of mine is better left unrealized.
September, 1995